Keepsake Animal – Stitches By Natalie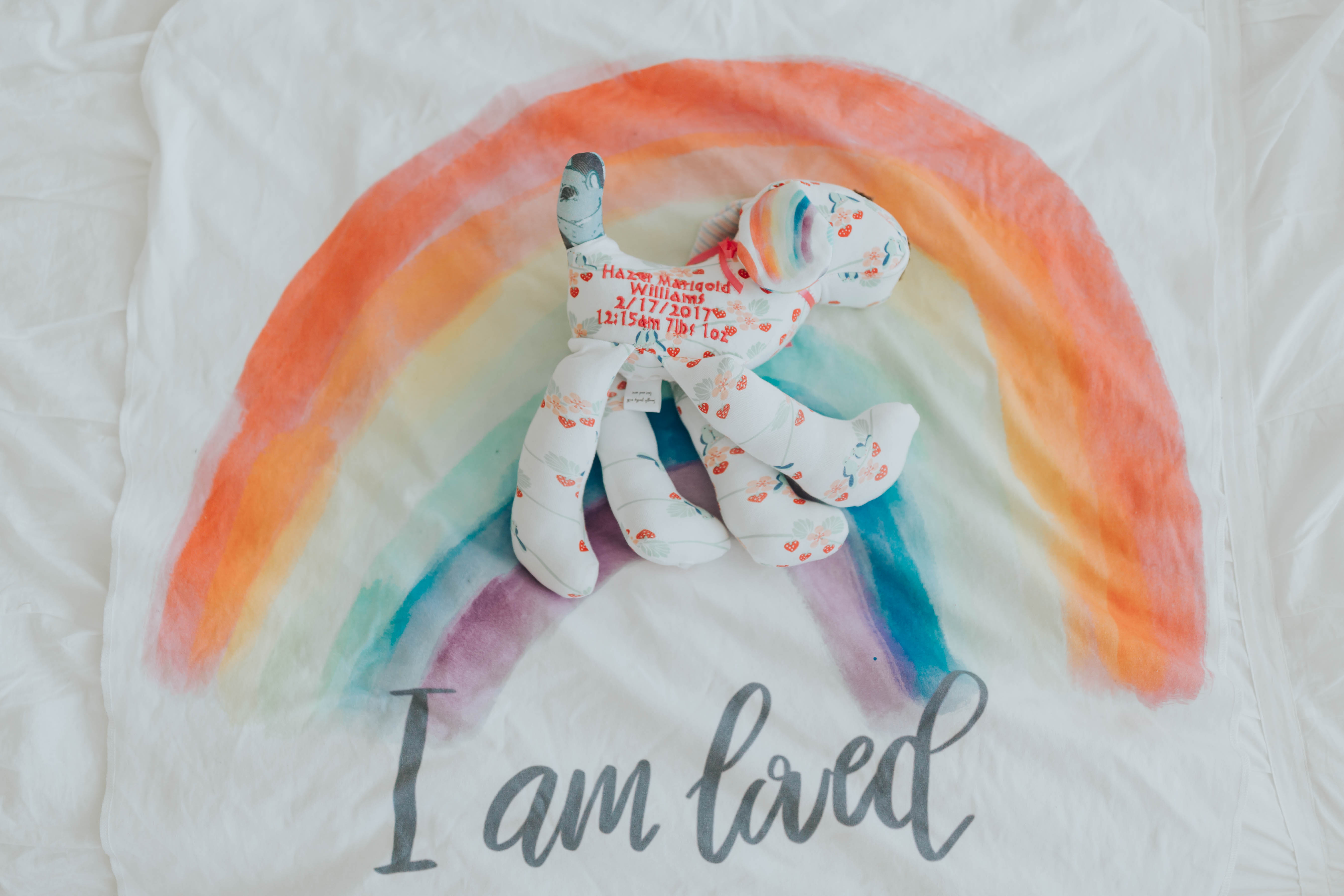 There are so many memories from when our precious babes are so tiny. I always wished I could bottle up those first few weeks. Everything was a learning experience. It's pure exhaustion, and yet so tender and beautiful all at the same time. Growing  the tiniest love and then giving birth to it just takes living to a whole new level.  No matter how tired you are once that little baby comes home, those newborn days fly by even if in the moment it seems as if they're standing still. Before you know it, they're walking and talking! You look back at their newborn clothes and their swaddle blankets, and wonder how they ever fit in those…or DID they ever actually fit in them?!
Hazel is already 5 months old and almost 15 pounds. Her tiny 7lb body seems like ages ago. I love this stage, but putting all of her newborn clothes away makes me a little sad. Each onesie or little dress has a memory attached to it…even if it is "the onesie she puked all over in the grocery store."
I'm so happy to have found Stitches By Natalie.  She creates such beautiful keepsakes for all of those special clothes that you just don't want to throw in a box in the attic. We didn't really have a real "hospital blanket" for Hazel. The blankets there were just white, so we didn't take one home with us. But, we did  use a certain blanket for her a lot when she was a newborn, so we gave Natalie that blanket, a newborn hat (the little rainbow piece on the puppy), a bonnet she came home from the hospital in ( the puppy's tail), her hospital hat (the striped ear), and a newborn onesie that was my absolute favorite ( it says, "oh deer, Hazel is here!").
All of these little things have such great memories and meanings attached to them, but I can't see them when they're in a plastic bin somewhere, so a keepsake animal seemed perfect. When I first saw all of the pieces sewn together as one unit, tears just started streaming down my face. I started reliving our time in the hospital when they first laid her on my chest with her little hospital cap on, and then swaddling our little rainbow baby in her rainbow blanket and hat. After a quick stay in the hospital, she wore her coming home outfit with little squirrels eating some nuts (since she's our little Hazelnut ;-)). And one of our first pictures of the girls together, they're wearing their matching deer tops! It was mesmerizing to watch these two miniature humans we created interact with each other. It was a miracle to have both of them in our lives, with Hallen coming from a little help of Clomid ,and Hazel being conceived so quickly after a miscarriage.
Those tiny clothes are more than just clothes. They remind me that miracles are real. And I need little "miracle reminders" scattered around my home for those tough days.
***use code DEARNOVKEEPSAKE for 10% off at Stitches By Natalie***
Related