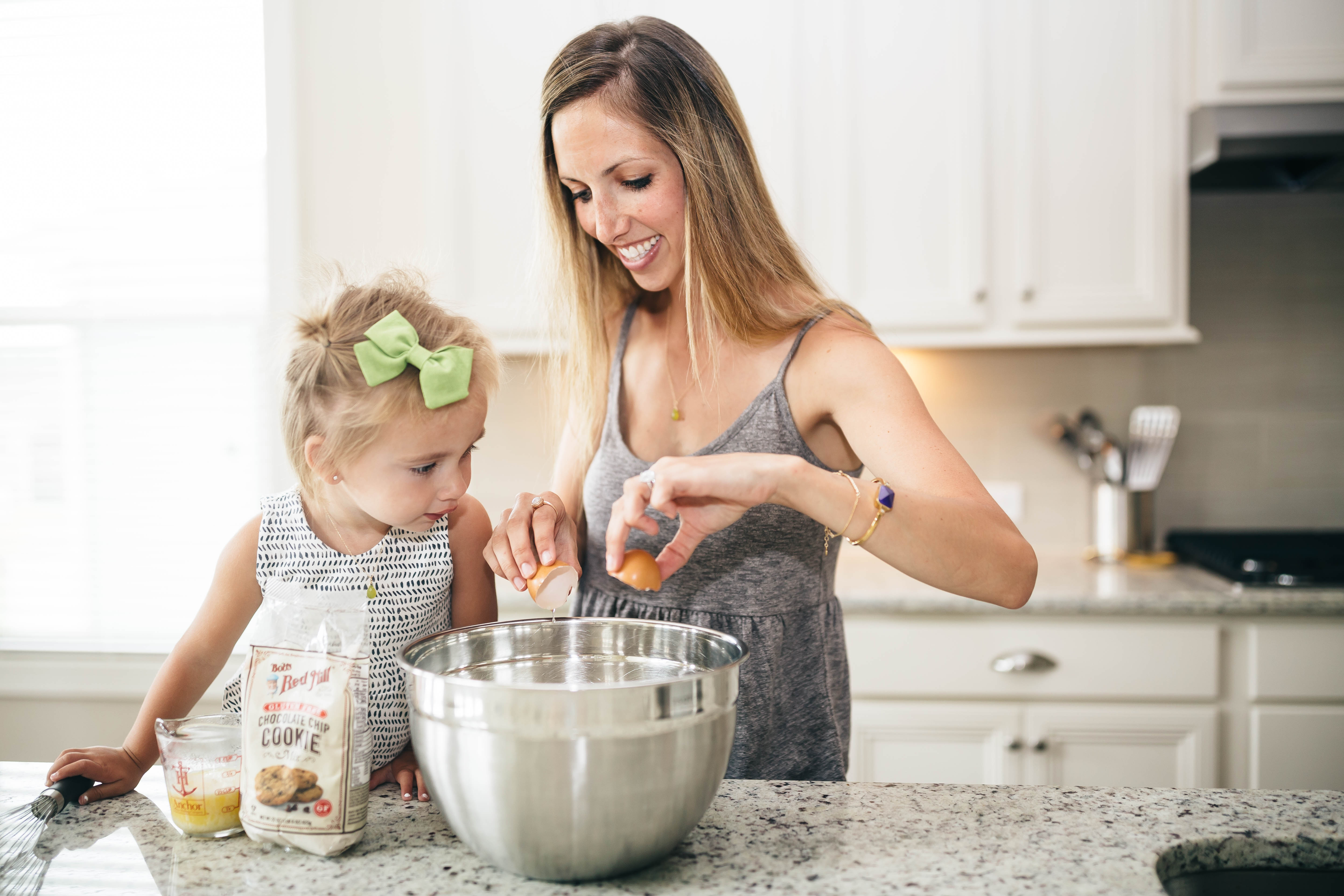 Do you have an activity that you just LOVED to do with your mom when you were younger? I do! It was baking for sure. My mom baked so many things whether they were homemade (lemon poppyseed bread…yum!) or from a box (funfetti, anyone?!). It was the experience of doing something and creating something with my mom…okay…and licking the bowl, because if it was just the two of us, I got the whole thing to myself! If my brother was around, she'd draw a line down the middle of the bowl, and we'd each get half a bowl to lick. Womp womp. And yes…there were raw eggs in it. Don't judge. Have you ever gotten sick from eating raw cookie dough?? That's what I thought.
So, recently, I've started to let Hallen help me make things in the kitchen. I'm kind of a neat freak when it comes to cooking, so it took me some time to build up the courage to let her help me. Usually, I have a paper towel under my spices, flours, and sugars. When I'm done using something, it goes in the dishwasher, etc. I just like as little cleanup afterwards as possible.
A few weeks ago, Bob's Red Mill offered to send us some products, and when I saw that they had a chocolate chip cookie mix, I knew I had to have it! Who doesn't love a good chocolate chip cookie? And, their's is gluten free, so it's perfect to bring to all your summer get togethers when you don't know if someone has a gluten intolerance. I'm always skeptical about chocolate chip cookie mixes, because my mom's recipe is the best, of course! But once these were made, I was pleasantly surprised! We are a family who likes to try and eat healthy 80% of the time, so I kind of feel like these can fit into that 80% even if it is a dessert!
Later that evening, we took them to our friends' house for game night, and they loved them too! This cookie mix will definitely be part of our pantry for an easy and tasty dessert. I love to make homemade things, but in this season of my life with two  little ones, it's easier to have some of the ingredients already mixed together. All this mix needed was some butter, an egg, and water! (When I started to make it, I realized I only had half of the butter in the fridge that it called for, so I also used 1/4 cup vegan butter.) And I'm happy to report that Hallen didn't make a mess ha! I hope she starts to love baking with me like I did with my mom.
I wish I had a picture of the finished product for you, but…we ate them all a little too fast before I remembered to do that. Sorry!
Matching Necklaces: Emma Jane Designs (include name "Libby Brackett" as your rep at checkout)
Hallen's Outfit:
Top: Mila Chic Boutique
Bloomers: Rhett Tucker
Bow: Charlotte's Webtique
My ring: Life's Journey Jewelry Creations (code DEARNOVEMBERDAYS)
My smart bracelet: Ringly
Related