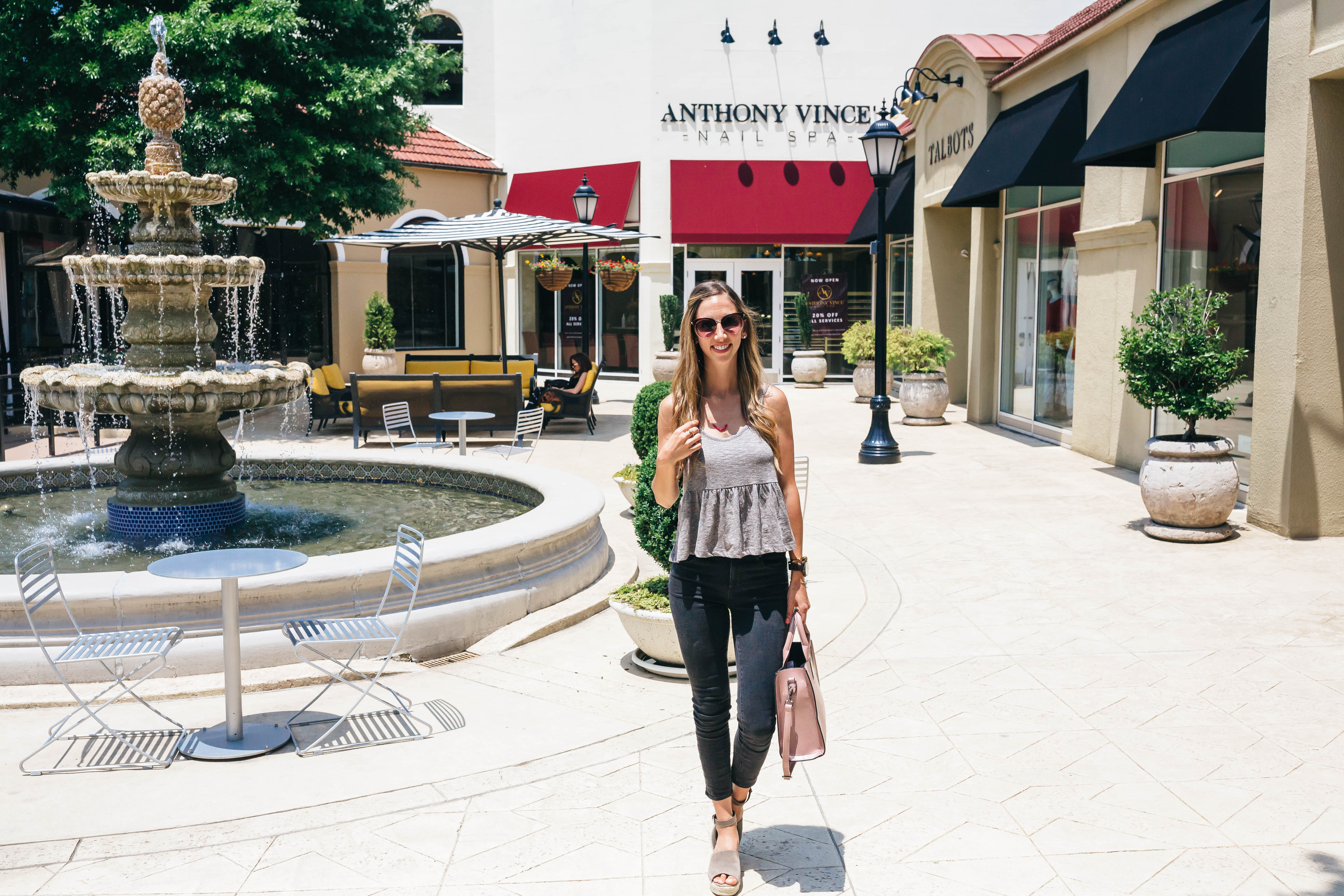 If you're in the Charlotte area, I've recently had the pleasure to visit a new nail salon in the area, Anthony Vince Spa.
I want everyone to close their eyes and think about the nail salon they usually go to. When you walk in, there's probably a wall of nail colors, the front desk, the manicure tables pushed against the walls, and around 10 pedicure chairs pushed up against the walls in the back, right? There's probably a nice staff and a couple options for beverages. Now, keep your eyes closed, but imagine that but 10 times better! Because, that's what Anthony Vince Salon is. I walked in last Saturday, and was completely amazed. My vision of nail salons transformed. I was greeted by the manager, Kevin immediately. And just at first glance, I felt like I was at a resort. The salon is large and the furnishings are immaculate. There are rows and rows of manicure tables and about four pods of pedicure chairs. In each pedicure pod (of either 6 or 8 chairs) there was a big screen TV as well. At the back of the salon is a gorgeous waterfall where you wash your hands and a whole room dedicated to sanitizing the utensils they use. The coolest thing about the salon is that there's a fully stocked bar at the front. Not that I want to be at a bar all the time, but it made the salon feel very chic. It made getting your nails and toes done more of an experience than just another appointment on your calendar.
My husband and I talked to Kevin the whole time I was trying to pick out a nail color. Once I did, I was walked over to my pedicure chair. My husband was going to go and get a hair cut while he waited for me to get my mani/pedi, but was eventually convinced to stay for a pedicure as well, and he was sure glad he did after it was all over.
So, all you manly men out there, go get a pedicure! It won't hurt your ego or make you less of a man. It's a great way to get pampered, and you'll wonder why you never had it done before!
Anthony Vince Nail Spa uses VOESH pedi in a box  for the royal hot stone spa pedicure we had done. I loved this, because you see them opening a new box every time you go to the spa. There are six scents to choose from. I chose green tea and Kevin chose lemon quench. Both smelled so fresh!
You start with the salt scrub from the little box. Follow it with a foot scrub, mud masque, and lotion. Before they put lotion on us, they put our feet into bags filled with paraffin wax. It felt SO good! I think that was my favorite part of the pedicure. While our feet were soaking in the paraffin wax, we got a hot stone calf massage. It was the first one I'd ever had done, and it's definitely going to happen again!
After a great feeling pedicure and polished toes from Katie, it was off to the manicure chair!
I ended up doing dip powder nails by SNS. I had heard of it before, but had never had it done. It's basically like a thin acrylic. You keep dipping your nails into powder over and over. Kevin did a great job! I think I may like SNS better than gel. My manicure still looks great. Nothing has chipped or bubbled up. And I like the fact that I didn't have to put my hands under a UV light PLUS SNS products have vitamins in them to help strengthen and grow your nails. I'd call that a major win!
Anthony Vince Nail Spa is seriously the place to be if you're in the Charlotte area. It's right beside South Park mall nestled in some specialty shops. Take your girlfriends there for a day of pampering, or go there alone for a great experience. You can call ahead of time to make sure you can book a pedicure pod for all of your friends or make sure you can sit next to your friends while you're getting manicures. If you bring 8 people or more you automatically get 10% off! So, make plans for a baby shower, wedding shower, birthday party, bachelorette party, or just a day of fun. It's the only place I'll be going now.
Find the purse here
Related