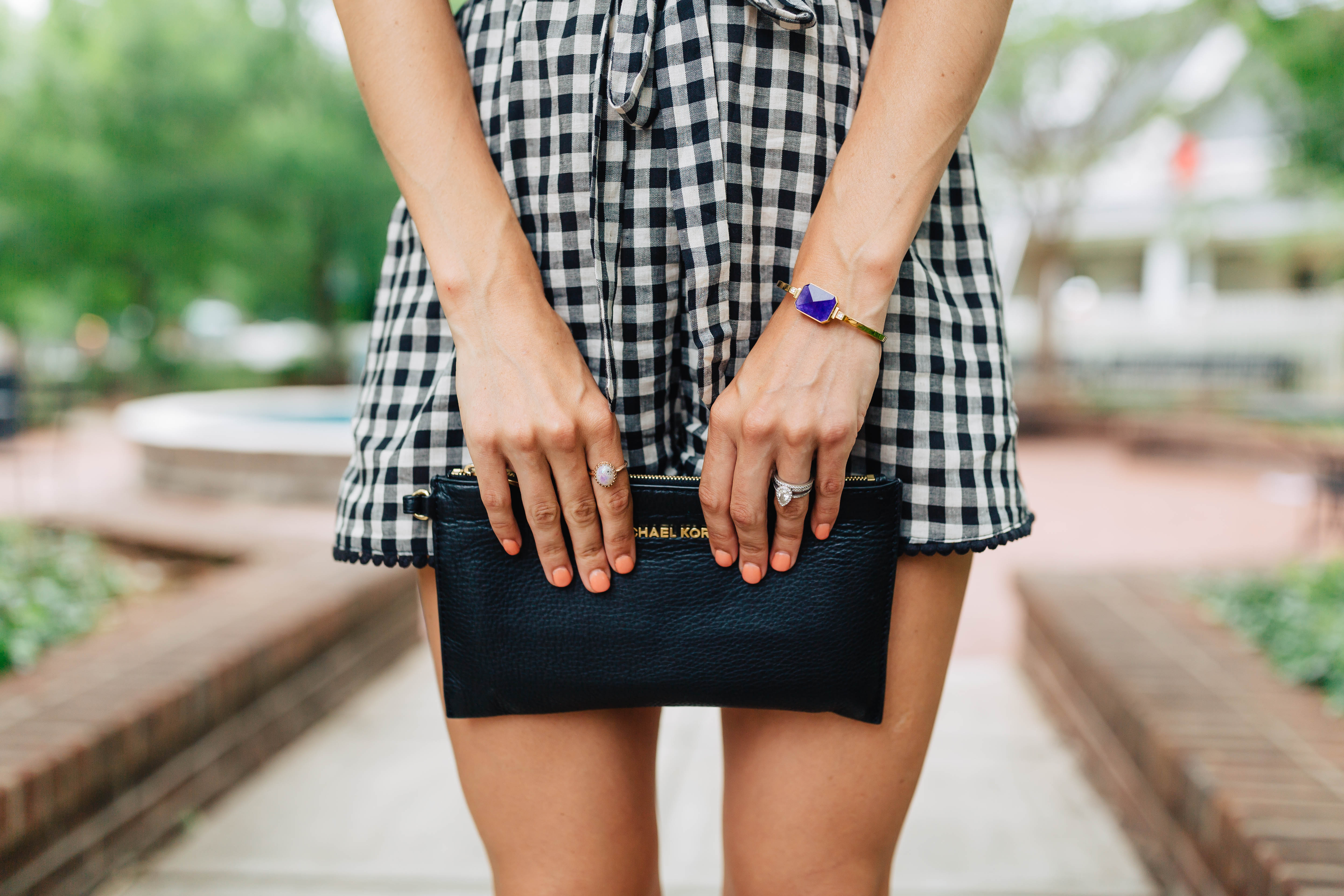 I was given the opportunity to try out a Ringly Luxe Bracelet to see what it was like, if I liked it, and how it could fit in with my daily life. Everything below is my honest opinion.
First things first- I've never seen a more stylish piece of smart jewelry than this bracelet (or one of their rings). Most people who keep track of steps have some sort of device with a rubber wrist band. The Ringly Luxe Bracelet takes it up a notch (or ten, let's be honest) by making smart jewelry pieces with gold, silver, and different colored gemstones. The purple jade is gorgeous in person, and I figured, being a Clemson alum, purple matches everything! It's every fashionista's dream who still wants to stay connected, fit, and stay stylish with anything you put on.
Besides the stylish aspect of Ringly's pieces, one of the main reasons I love it is that it helps you stay connected without being constantly distracted. You can set different notification patterns on the Ringly app for what you want to be made aware of. For example, the ones that come standard on the app once you download it are: phone calls, text messages, reminders, and calendar events. So, if your phone is ringing, a little light on the side of your bracelet will blink blue a few times AND vibrate four times (if you set phone calls to a blue light and four vibrations). You can mix the color patterns and vibrations up for any alert. I've actually kept the original alerts with the same color/vibration pattern that was already on there.
You can also set a list of contacts ( I like to think of them as your VIP contacts). It'll blink an extra color for when they call or text you. I have a specific one for my husband, so I know I may need to check my phone if it blinks blue and then yellow.
I love that I can just look at the color and feel the vibrations to know if I need to look at my phone. I didn't add any other alerts, because I already don't like to know things all the time. I figured four would be a good number to start with and to learn the patterns. I may feel the need to add one or two more alerts (maybe PayPal and Instagram) one day, but I'm keeping it simple for the time being. When I'm out with friends, this has helped me dramatically. I like being able to keep my phone in my purse and just have an uninterrupted conversation with who I'm with. One of my biggest pet peeves is when someone puts their phone on the table and keeps looking at it…or picks it up because they see a text and try to keep talking to you. I know each and everyone of you has that friend in your head right now! That's one of the reasons I never got a watch that shows me text messages. I don't like when people stop mid sentence because of a text that "they just have to answer right now!" Ringly allows you freedom from that.
My husband and I have both tried to be better about our "phone time" when we're together and around the girls. Hallen has told us to put our phones down before, and that just broke my heart. I don't want her to grow up seeing us with phones in our hands all the time! I want to have books and toys in my hands. I want to really pay attention to my girls and husband when I'm with them…and that goes for my friends too! I don't want my body to be the only thing present. And just because we're a culture that can have technology in our hands 24/7 doesn't mean we have to accept that norm.
With their newest technology, Ringly also counts your steps. I love this! I've never had a huge want for something to count my steps everyday, because I didn't want something else to add on my daily list if I didn't hit a certain count! But, I do actually like seeing how many steps I've taken in the day. And since I'm a runner, I REALLY like looking at my steps on the days I run. It just gives me a little confidence boost 🙂 One tricky thing about my running, though, is that most of it's done on a treadmill, so sometimes the steps are a bit off like with most all smart jewelry devices. A tip I was given is to run with it in my pocket, and it seemed to improve my steps!
And what mom doesn't want to look fancy for a minute or two, even on a run?
Hallen loves how it lights up! I tell her it's magic, and then I basically rise to the rank of Elsa in her mind. So, thank you, Ringly, for giving me some magical powers 😉 Running around with a toddler all day certainly adds steps to my day! Some days, I'll look how many steps I've already taken and then decide if I actually still need to exercise 😛
My bracelet stays on nicely durning my long runs. It's not cumbersome or annoying in any way, and I'm someone who likes to run in as little as possible!
When I wake up in the morning, it's my first piece of jewelry to put on now (every step counts, right). It mixes with all my other jewelry, and if I want another Ringly piece one day, I can connect another piece to my app. Chances are, I'll invest in the Ringly Go next or a ring.
Related