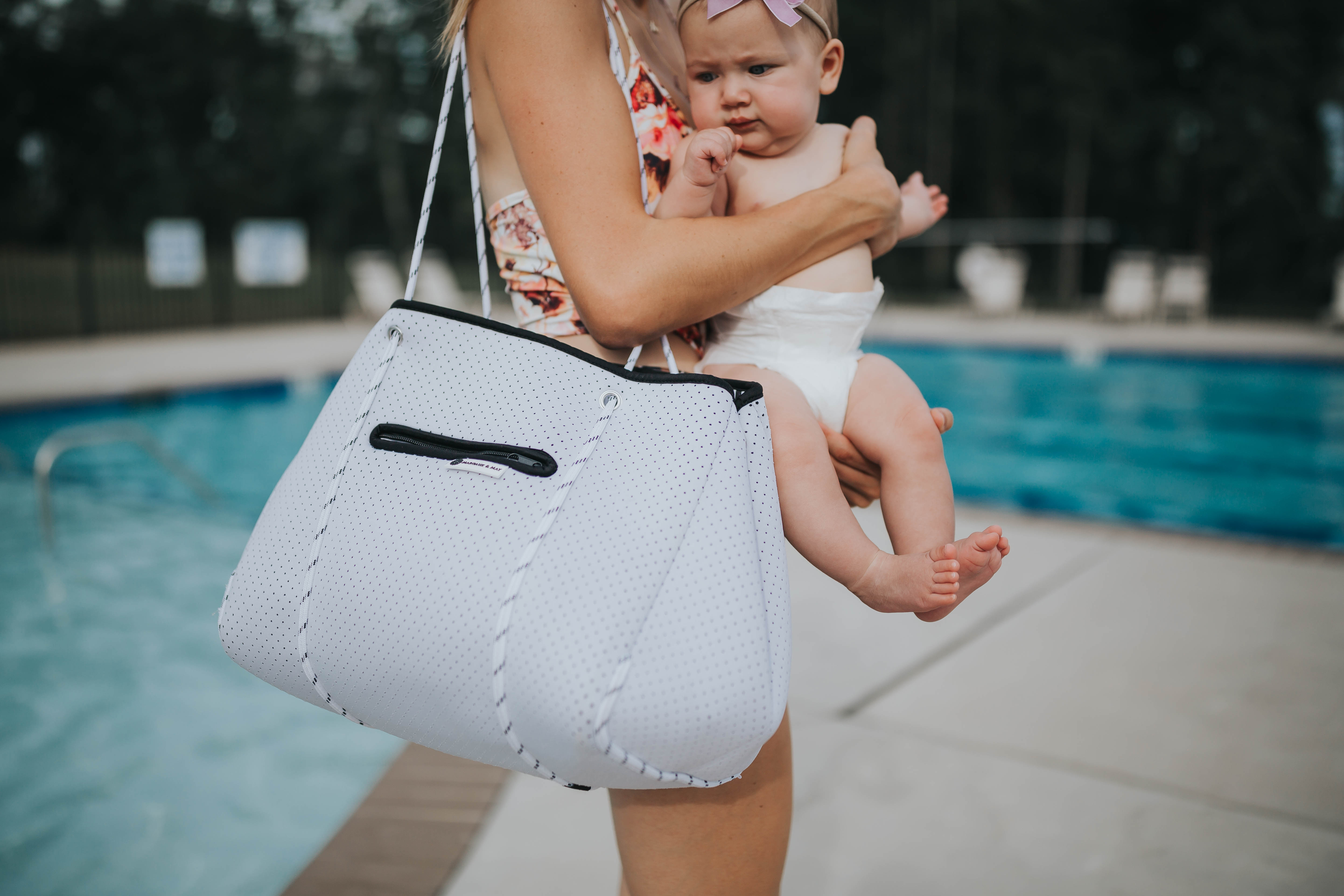 All of us mamas are on the look for that perfect bag. I know it, because I've always been on the look! And I feel like I need different bags for different activities. I've been known to bring four bags. Those aren't my favorite days. I'm already carrying 2 kids, but when you add 4 bags, insanity happens! But when I started out, it just made sense in my head for organization purposes. I bet you've been there too ha!
I've found an amazing bag from Margaux and May for those days when I want to take my four bags, though. I
t carries EVERYTHING! Like..everything! It's been our go to pool bag and theme park bag (the material is neoprene, so it's similar to wetsuit material…genius, right?). It's great when you know you won't be back home for a while, so you want to pack the whole house up and take it with you. There aren't any pockets inside, so you have maximum capacity to put everything you need in there. It also comes with a smaller pouch to store other items. For me, it was my lipgloss, IDs, money, and dirty diaper bags (because those just become a hot mess if they get unravelled, right?).
I seriously stuffed it to the brim with changes of clothes, towels, shoes, snacks, diapers, and my camera. I'd normally be wary of hanging it on hooks with a whole house inside, but the straps are made of sailing rope, so they're stronger than you think they are! And clean ups are a breeze. Messes don't scare me with this bag, and my purses are notorious for getting crumbs, chocolate smudges, and coffee stains on them that make me want to cry, but I can toss this into the wash. Yup! Ball it up, and wash it with the rest of our clothes. That's why it makes it the perfect bag for moms. I know that we don't have extra time to go drop something off at the cleaners or even hand wash something. Who really does that? Not this girl. (Don't tell my mom, though. She raised me better!)
So, take your pick from black or white. You'll love it. I've even found it to be helpful at the grocery store to put some groceries in.
Related