Pretty Pretty Princess – Little Adventures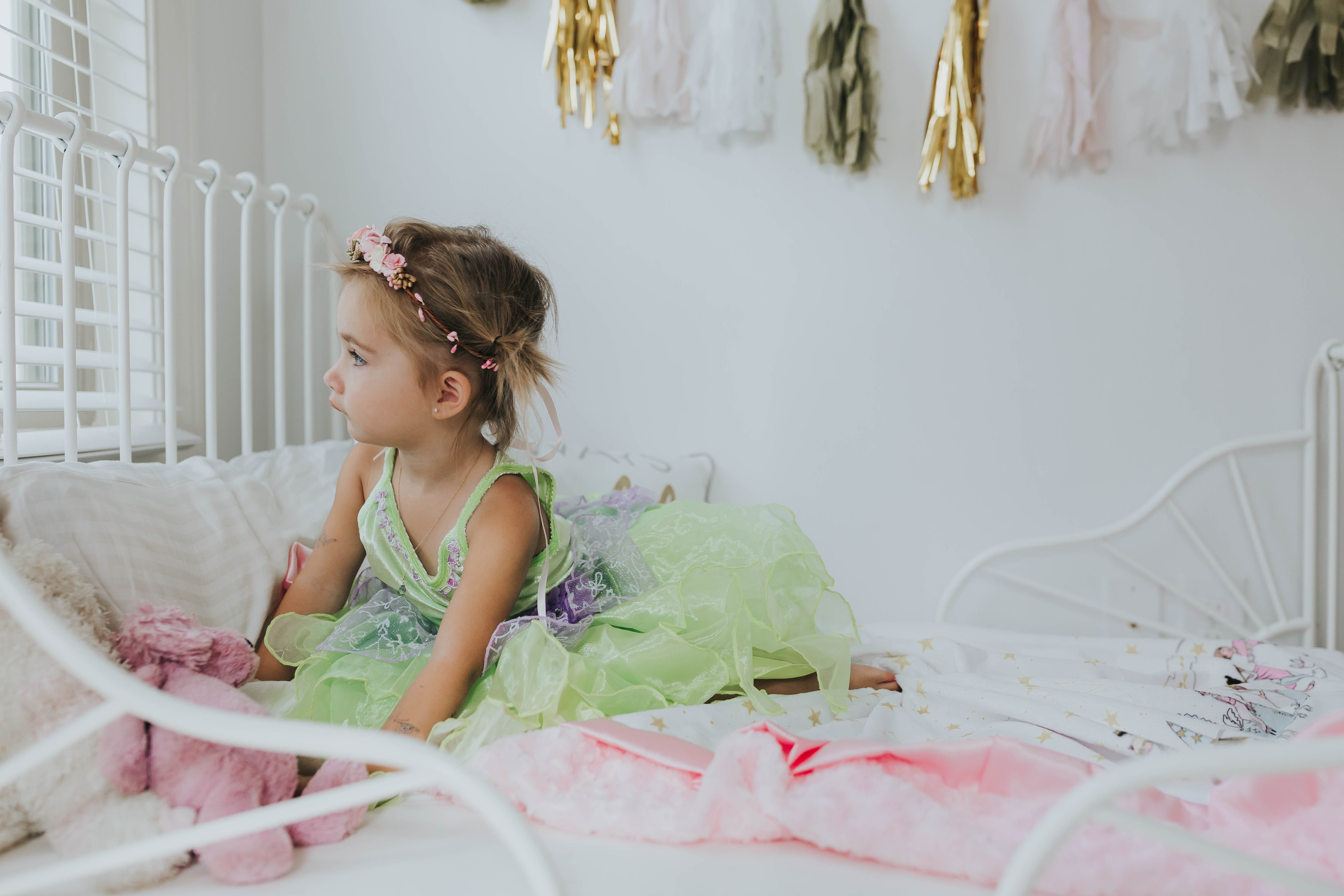 Pretty Pretty Princess. Do you remember that game when you were a child? It was my absolute favorite. It'd always be my first game to pull out when my friends came over! And I'd just be praying I didn't get the dreaded black ring! I wanted to be a princess from day one of watching all the Disney movies. Well…Hallen is in full princess mode over at the Williams' household. I'm sure you've noticed if you've even be following along with our life in squares for only a day. All she wears is a princess dress these days! If you see her not wearing a princess dress, there was a serious bribe involved. Like serious…I probably gave her a pony or 5 trips to Disney World. Girl is stubborn!
Enter in Little Adventures Dress Ups! Their dresses have been amazing for day to day wear. They're very comfortable, affordable and so easy to just throw in the wash (if you can manage to get it off your child). Hallen chooses a new one each day off of her little clothes rack, and goes to bed in it as well, so really it doubles as PJs, right? Before I received these dresses as part of a collaboration with Little Adventures Dress Up, Hallen had two hand-me-down dresses to wear, but now her wardrobe has vastly expanded (thank goodness), so there aren't as many tears when we have to take a dress off. All she can think about is who she wants to be next! One day it's Anna. The next it's Sofia…And she does ask to be called the name of whoever's dress she's wearing. Fancy little girl.
One of her dresses even motivated her to go to the potty! I kid  you not. I had her little purple amulet dress hanging on my clothes rack downstairs, and I told her she could have it once she went pee on the potty. Guess what?! She really wanted that dress! So, it also worked as a little bribe. I'd call that magic and worth any amount of money! So, today, I through that dress on her right after she went to the potty and we went to go see the horses she always asks to go see.
This age is all about imagination, and I love it. At first, I was fighting it, because I was so used to dressing her in all the cute things I was buying her, but one day I just looked at the situation going on like an outsider, and wondered why in the world I was fighting with a 2 year old about clothes! It was ridiculous. It was a little piece of control that I just didn't want to let go of, but now that I have, toddler life is a little smoother sailing. Everyone says, you have to pick your battles, and whoever "everyone" is, "everyone" is so right! The clothing war is one that I won't be fighting on a daily basis anymore (unless like previously stated, there's a gigantic bribe involved). When you're a toddler, you deserve to be a princess every day. Take that crown and princess dress on a walk,  to the grocery store, or have a tea party right in your own home. When in life do we ever wear princess clothes just because we can? It's like eating dessert first sometimes. You just have to do it, because you can!
Let your little adventurer take on a new persona each day, gain confidence, and use their imagination by just getting their favorite character outfit. I'm a mom who'd much rather have the girls use their imagination to play than have thousands of little toys all over the game room that no one uses in the first place. Imagination is childhood, and I can tell that when Hallen is dressed up in one of her princess dresses, she really thinks she can take on the world! Her little sassy walk is ridiculous haha!
Follow along with Little Adventures Dress Up on Facebook, Instagram, and Twitter to find out more. It's also the perfect time to grab a costume for Halloween if you need one…or five! Hallen's favorites are her Coronation gown, purple amulet dress, and Tinkerbell costume. I think the next ones we'll get are the yellow beauty gown and the Polynesian Princess!
Here's the fun part for all of you! One lucky person will receive $30 to Little Adventures Dress Up for anything you'd like! All you have to do is:
Comment on my IG post
For extra entries:
Comment on this blog post
Follow my blog
Contest will run from tonight until 9/15/2017 at 9pm EST.
And for all of you who can't wait for the contest to end, use code DND15% for 15% off your purchase at Little Adventures Dress Up!
Related