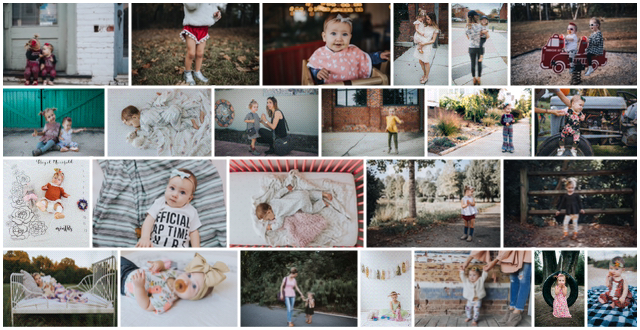 It's no surprise that I LOVE children's clothing, toys, and cute little accessories you can adorn your children with ha! I figured I'd put together a few lists for you throughout November, and throw out a few codes for you to use to get discounts…because who doesn't love a little discount?! These are all shops I truly love. I wouldn't steer you in the wrong way. I know a lot of times, we get down to the last minute looking for fun items to give…well don't waste any more time. You're going to be able to find everything you need with these gift guides! And some of these are small, handmade shops (think  one mama with a sewing machine, busting her tail for you), so the turnaround time can be about 3 weeks (pretty darn good), so just take that into consideration!
This week, I'm talking everything child…mostly for girls, but some of my favorite shops have things for girls and boys! Some of these are even good for mothers to be. I'm starting with just a list of the stores with their links and my code if I have one, and then I'll share some photos, so you don't have to do lots of scrolling if you don't want to. I know some of you just want to get straight to the point 😉
So let's start shopping!
Children's Clothing
Mila Chic Boutique (code DEARNOVDAYS)
My favorite pieces are the peplums, high lows, and dresses! Hallen loves the twirl factor! The fabrics are buttery soft!
Rhett Tucker (code HALLEN)
LOVE her rompers and peplums! She also has some amazing mama peplums to match your little!
Little Nugget Knits (code HANDH10)
Such comfy leggings that come in fun and comfy fabrics
Ashley Rose Clothing (code HAZEL)
Her rompers are the CUTEST! Such a vintage quality and style about them.
Hug Me Sew  (HALHAZ20)
Super comfortable and practical designs. Love her two piece sets, dresses, and bibdanas
Baby Breez (DEARNOVDAYS10)
You're going to want every color of her sleepers! Just got the Carrera and am in love!
Rompers, mama tees, and fun graphic tees for the littles! 
P and the Lion (HALLEN)
The cutest pom shorties and leotards!! 
Looking Glass Clothing (dearnovdays)
I love that it's made right here in NC! My favorite fit for Hallen's skinny legs. I also love the ruffle dresses.
Another Carolina maker. You'll love absolutely anything she creates. I love her rompers! 
She made Hazel's Rainbow Baby leotard. It was my favorite fabric ever. Her leotards are the best!
You'll love the soft fabric, stretch, and just ease of the design! 
Sofia and Belle (DEARNOVDAYS35 for 35% off!)
Another talented maker, who comes up with new designs all the time! You'll love her vintage, heirloom designs and quality. 
Children's Shoes
Love the sole on these, and their mocc designs! They're so fun.
Our favorites are the Mary Janes! Super comfy, and I LOVE the colors
Gracious May (free shipping through Christmas!)
You need the fringe boots in EVERY color! 
You send in your hubby's shirt, and the mama behind this shop creates a little dress or shirt for your little girl!! Such a great concept, and I LOVE the one she made for Hallen.
Hallen seriously wears a dress from this company every single day! They're so comfy, and wash great!
Children's Accessories
My favorite things out of everything they make are the dream blankets and bibs. You NEED the bibs!!
Get these booties right now! If socks are a problem, these stay on SO well! 
Charlotte's Webtique (DEARNOVEMBERDAYS for 15% off)
The prints on her bows/bowties are hand painted by her and then printed on fabric. How unique is that for a gift?!
Batz Kids (dearnovemberdays)
If you have a friend or family member with a newborn or is pregnant, grab one of these milestone blankets! Such a great gift
I love their polarized shades. And they stay on so well. 
Templeton Silver  (november for 25% off)
The only paci clips I use! And after your little is done using a paci clip, it turns into a keepsake bracelet for you!
Little and Luxe (look out for an amazing Black Friday deal!)
My favorite sheets!!! So unique, and really make a statement in the nursery.
Daddy Said Yes (SWEETHAZEL)
If you're looking for a felt bow or crown, this is the place!
Snugars (free shipping through Christmas)
Get some leg warmers and a cute headband to match and go with  your boots from Gracious May! Love the leg warmers!
She just created new velvet bows, and they're so perfect for the holidays!
Henry and Bros (Until Nov 21, use code HOLIPROM on Amazon. Nov 21- Dec 25 is 25% off entire collection with code BLACFRI1 on Amazon.// Until Nov 21, on the website, spend $70 and receive a free holiday bowl blanket worth $39)
I've "known" the creator behind these blankets for a while now, and she designs such pretty designs! My favorite are the toddler blankets and beach towel blankets!
I love the sweet bow designs! And she's another Carolina maker!! 
The SOFTEST blankets around.  I always grab one of the many we have when I sit down on the couch.
Mommy and Me
Theresa Pham Designs (holiday15 for 15% off)
If you're looking for a chic mommy and me design, this is your place! Hallen felt like a little princess, and I felt all dolled up! 
Love all the compartments in my bag, and Hallen put all of her dolls diapers and bottles in hers…she felt like a little mama! 
Another designer that makes very chic mommy and me outfits. 
Rey to Z (REYTOZFRIENDS for 20% off)
Who doesn't love a cute hat to keep the sun off your face? Or cover up some greasy hair….These are personalized with your little's (or your own) initial.
Toys
These are hard to get your hands on, but worth it! They're adorable and so cozy for your littles. 
A great gift for a newborn or a pregnant friend. We have two sweet little loveys for our girls.
If you're looking for an easy gift to grab and give, IncrediBundles is your place. They create the most fun little boxes! 
I love how almost everything can be personalized. We have several items, and love them all! Hazel's little robe might be my fave, because who doesn't love a baby in a robe?!
You NEED this! For your own little or a friend's baby…Such a sentimental piece created from baby blankets or clothes. I love our little puppy.
Decorations
Mod Wood Co (MWCFRIENDS)
I have two signs from MWC, and love them both. The quality is amazing, and it's a really fun piece to add to a room. 
Another unique piece to add to a room! I have two of her string art pieces in Hazel's nursery, and I love the 3D effect on the wall!
Machine washable. Do you need anymore info? The rug is super soft, and love how it looks in Hazel's nursery.
And here are some photos so you can see some of my favorite pieces on or just not on a plain white background. I know it always helps me visualize how to see things really look.
If you want more photos to convince you need something from every one of these stores, just shoot me an email haha! Every single piece you're looking at is so well crafted and designed for great gifts to your own littles or for someone else's sweet babe.
Related