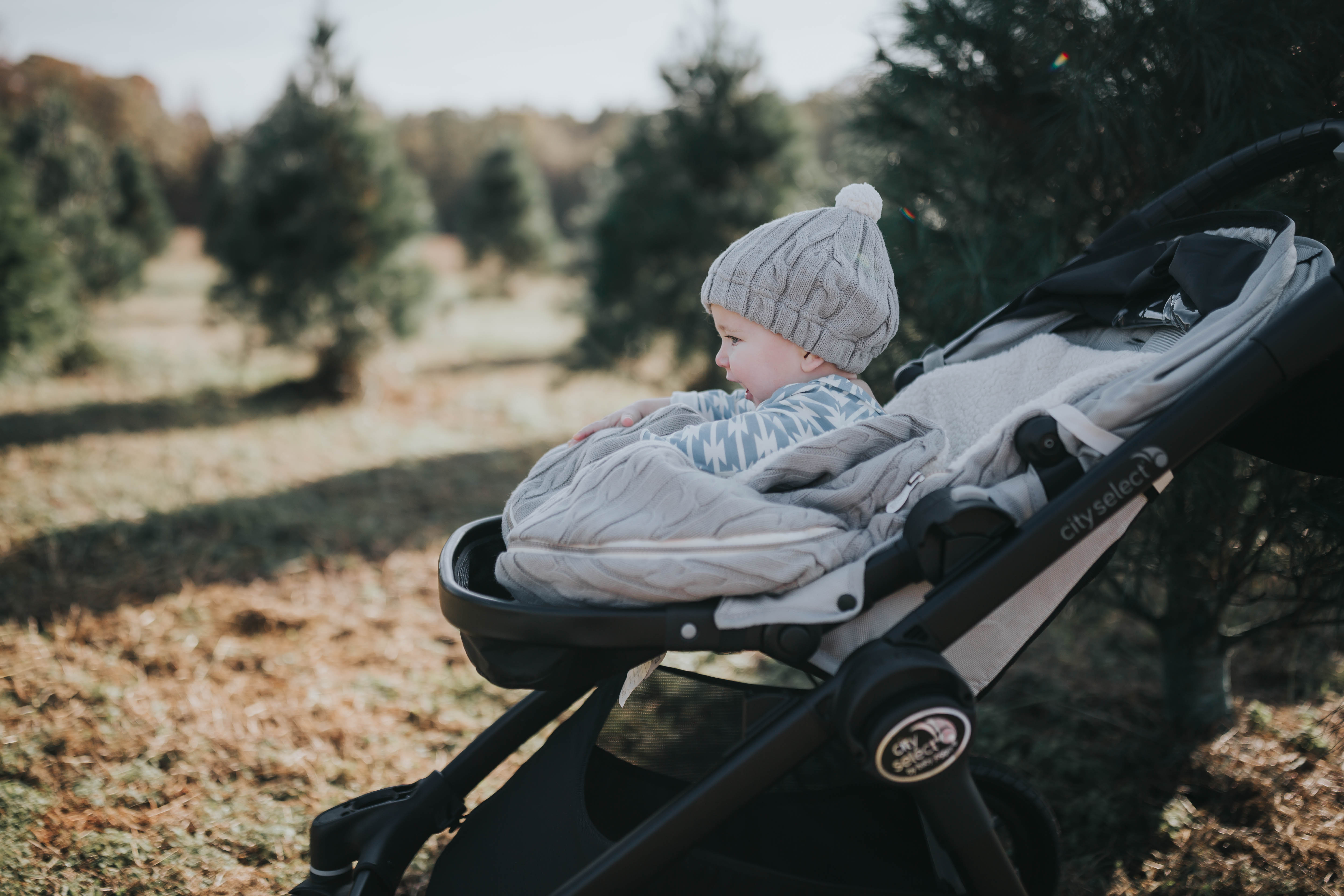 This past weekend, we went to a Christmas tree farm! Too early? Maybe for some…but we don't actually go to get a tree. We go just to get in the Christmas spirit! Who doesn't like to be around hundreds of trees?! And the farm was gorgeous. It was our first ever visit to Penland Farm, and we're definitely going back. We walked around for a couple hours just enjoying the atmosphere and the crisp weather! Thank goodness for our JJ Cole Bundleme that was sent to us. Since we're in the Carolinas, you never really know what October and November are going to feel like. One day will be hot, and the next below freezing. This morning happened to be one of those. Nice and chilly!
Walking around with two kiddos is no easy feat when it's cold outside. Runny noses and cold hands make for quite the tantrums! Hallen loved it at first, but then life hit, and she felt the cold, but of course toddlers HATE wearing coats. I can't for the life of me figure out why she won't put one on! If someone has a trick, please let me know! Should I just tell her that her fingers will fall off or something?! At least Hazel stays put (for now). I will forever be grateful to the person who invented the stroller. Seriously the best invention. And then for those extra cold days, I'll be even more grateful that JJ Cole created the Bundleme, so you don't have to mess with blankets that keep falling onto the ground and getting dirty or stuck in the wheels. I can't even count how many times that has happened to me. I also don't have to remember  a blanket during the cold months now. How many times does mom brain strike, and then you're walking around freezing, because you're using your coat as your kids' blanket now? Don't say it hasn't happened!
The Bundleme will be staying on our stroller for little Hazel this winter, and the hat in the stroller pocket. It's also one of those things that I just don't have to stress about. I know it's there, so I can take a blanket off of my checklist to get out of the house. If you haven't ever had one, I seriously suggest putting it on your wish list for the holidays. You can grab one at Buy Buy Baby in several different colors.
And for those of you that stuck with me this far, I have a little giveaway for you! 
Follow me @ dear.november.days and  @jjcoleusa on Instagram, and tag a friend on my post to be entered to win a Bundleme and hat! 
For an extra entry, follow my blog, and comment "done" with  your insta handle in the comments! 
*I was gifted the JJ Cole Bundleme, but all thoughts I expressed are solely my own*
Related