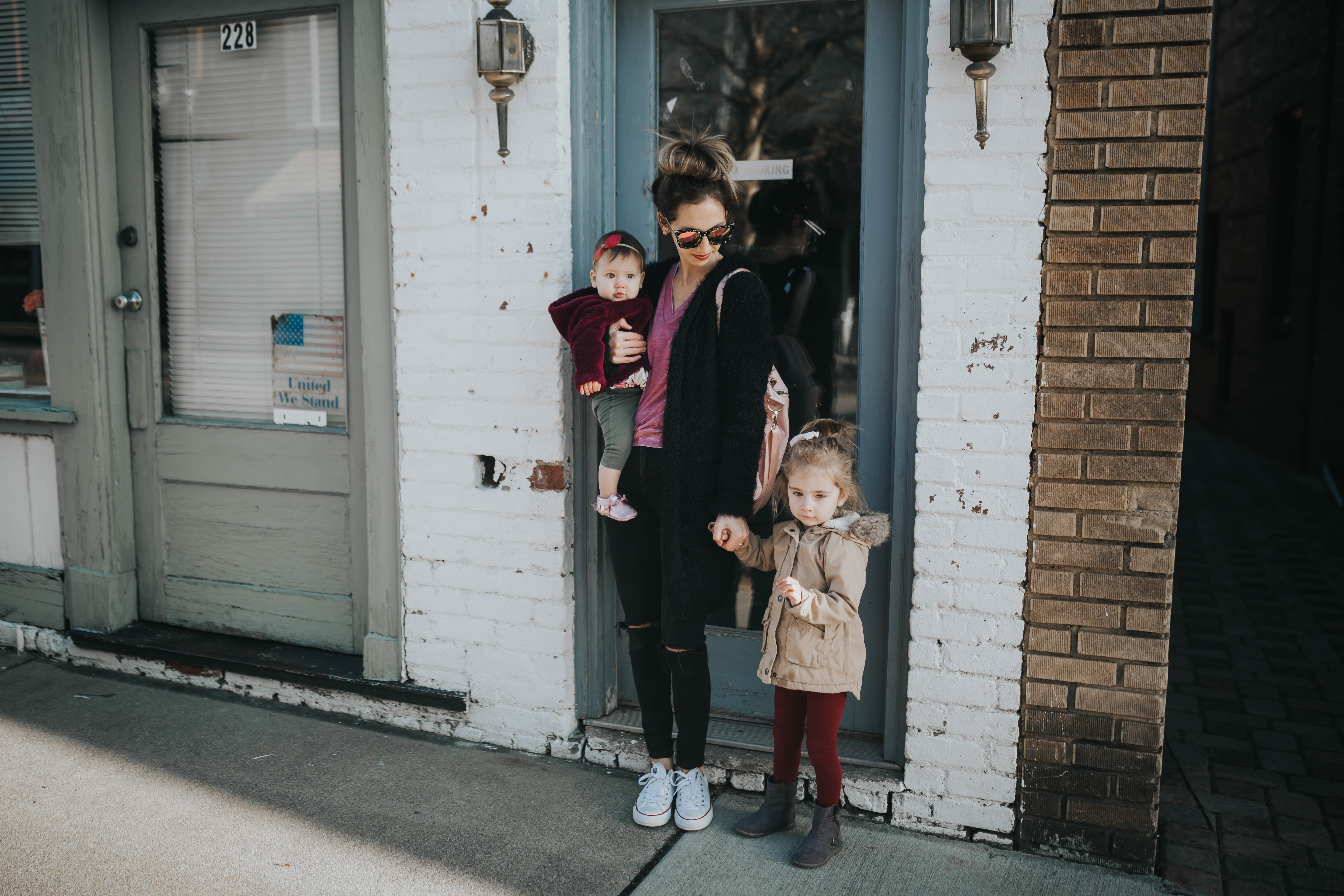 Mom bashing. Judging. Secretly talking about someone behind their back. Someone isn't raising their child like you (how could they!?). Bullying a mom you don't know online. Making a mom feel like she's unfit.
You guys, this has to stop. And I'm not saying I'm innocent of doing this. Hallen (my first) was such an easy textbook baby. Everything was perfect, and I experienced everything I thought I should. So, naturally, I started judging all the moms around me who were making their kids cry it out, feeding them formula, letting them watch TV before they're 2, putting them in timeout, spanking them, cosleeping, etc. Y'all..I was stupid. I hadn't experienced any hard mom moments, so  that made me lack empathy for what other moms were growing weary from and piling the "mom guilt" on themselves. And I'm not the one to say it to your face. I just think it. So, forgive me for making up these concocted preconceptions of your choices, ladies. Having a second baby who is a little needier and a toddler who is going through her threenager moment, I do not judge you anymore. I bow down to all that is motherhood and all those who are simply keeping their children alive with a smile on their face half of the time. Organic, non-organic, meal planned, takeout, or frozen (my sweet spot)…You are a goddess. There is no reason on earth you should be judged for how you're raising your tribe.
This week was the first time I have ever felt truly judged for how I'm raising my babies (besides a couple people in the grocery store telling me I should smack my child because of the way she was acting…but that's a whole other rant ha!). I have never in my life had someone say something so cruel to me. It wasn't to my face.  It wasn't even someone I knew. It was online. I know some of you may be thinking, "well that's what you get for putting your life out there." And, you know, yes, you're right. People can look at my life in squares and say whatever they want. I'm the one taking pictures and typing the words. But does that really call for someone to be so ruthless with their words?
For some reason, I decided to answer a question on a certain Instagram page about breastfeeding vs formula. The question was, " Did you breastfeed your kids, use donor milk, or formula?" Well, the one time I decide to join in and say that I breastfed both, but am planning to start formula with my 10 month old so that we could start trying for another baby soon (albeit with some guilt for not continuing to nurse), I get the most awful response from someone who isn't even a mom. I'm a no confrontation kind of gal, so all I could do was put an emoji after her first response. Some other sweet soul stepped in for me though.
(I thought long and hard about whether or not to add these texts in this, because 1) it honestly doesn't matter, and 2) I'm sure blue girl has a sweet side , but I also think it went to show that there are some really amazing complete strangers out there that will come up to bat for you when you're feeling low. That's how motherhood should be. We should rally around one another regardless of whether they choose formula over breastmilk or non organic over organic…)
After I saw this one simple remark, I had the hardest time falling asleep. This is what people talk about when they say social media can be bad for you. It's these people who don't even know you, but are just judging from the outside looking in. And then, I started second guessing my own decision. Am I really neglecting her? Am I seriously not taking care of her? Yes, I love nursing, but I also want more children. Should I be judged for this? Heck no! This may be TMI for a lot of you out there, but my cycle doesn't start up unless I stop nursing, and we want a big family. I've never felt so small as this nobody made me feel in that moment.
Our preacher said something last week that is just resonating with me after going through this. Self-pity, self-doubt, and judgement can get the heck out of here. I have the Lord on my side and this stuff is meaningless. How I decide to feed my child doesn't make me any less or incompetent in child rearing. I was made to be a mother, and you can't steal my joy, you "skinny, no babies yet, yoga pants, doesn't understand how demanding being a parent is," girl!
Mamas, you do you. And ladies who may or may not have children, DO NOT JUDGE. Just don't. If you feel yourself coming up with something in your head that could be conceived as a judgement on a mother's actions, just back up your thought train, and instead, give that mom a hug (or a virtual heart on her photo) or go buy her a coffee! Chances are, she'll need a little encouragement, because she's already doubting the 376 choices she's already made for her child that day before it's even noon! You don't need to pile any extra guilt on. Trust me. It's there (even though it doesn't need to be).
I know there are thousands of articles saying this same type of thing, but until you have it really happen to you, you just don't quite understand the magnitude of how sharp words really are. So, instead of bashing other mom's decisions this year (whether it's just in your head or saying it to them), let's be a mama tribe of kindness, love, and uplifting words. If you're in pregnancy/parenting forums like I am, DO NOT use that safe space to give your two cents on why you just know "such and such" is the best. I'm not in anyone else's shoes but my own, so chances are we don't feel it like another mom.
So, mama, please know that you are taking care of your child properly if you're feeding him/her (doesn't matter the source); you are taking care of your child properly if you change their diaper (cloth, organic, store brand); you are taking care of your child if you choose to have an epidural or natural birth or happen to have a c-section (your strong body CREATED a human being and brought it into this world); you are taking care of your child if your child feels safe to fall asleep (in your bed, in their crib, on the floor, maybe they had to cry it out); you are taking care of your child if you have that annoying mom guilt that always comes up with every decision you have to make. That's love. That's care. That's a conscience. That's being real and wanting the best for your babies. Take a deep breath in, and fill your lungs up with all that negativity that comes in every day, and then exhale to let it all go. The mother you are is the mother you are created to be. Never let anyone steal your joy of this truth.
Related