Mommy and Me: Snow Day Edition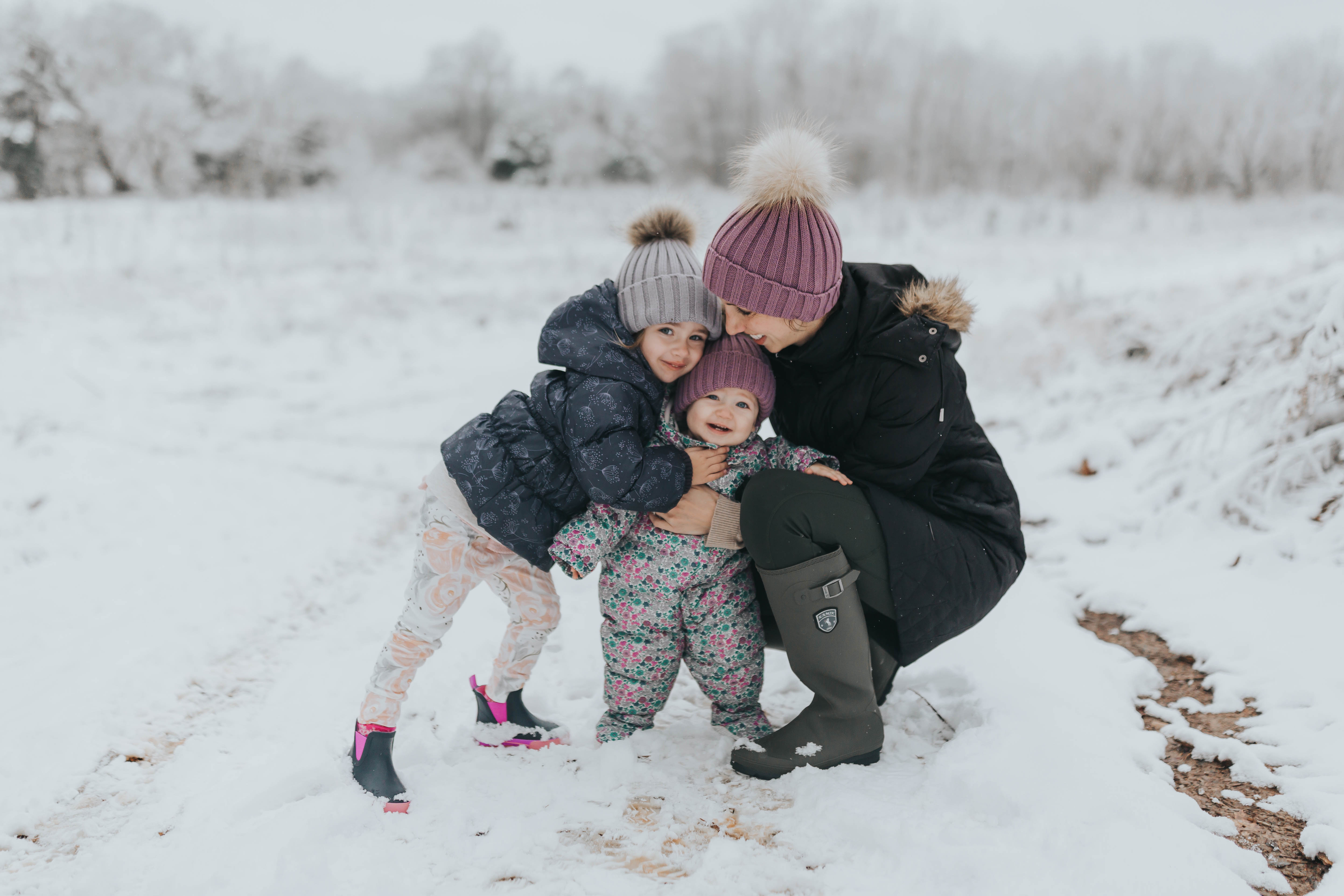 It comes to no surprise that I love mommy and me pieces. I never thought I'd be the mom that wanted to match her kids ( I remember hatinggggg that as a child), but here I am, 29 years young, wanting to do a little matching with my girls. Nothing over the top or too frou frou (although they might think it is when they hit puberty). Just some subtle prints or pieces here and there.
You'll often see us wearing our favorite pom hats this winter from Melina's Bowtique. They are SO darn cute. Even if you don't have a little mini me to match, just grab one for yourself! The poms on top are interchangeable. You can do a color or natural pom. We have just about every color out there. I can't say Hazel loves wearing hats yet, but I'm training her to keep it on 😛 When you keep her busy enough, her hands aren't so grabby!
We got to start working with Melina's Bowtique last year, and were so excited to jump right in. Her big bows have southern girl written all over them, and her hats are just plain amazing.
Today was the first big snow here in Fort Mill. It may be the only one this winter. Who knows? So when Kevin got home from work, we took off our jammies, and got suited up for a little nature walk so the girls could explore the white stuff falling from the sky. The first thing Hallen said this morning when she saw the snow was, " No. I don't want to go outside. It's WAY too cold!" She eventually gave in after she saw our dog and other kids having fun out there. She ran outside in her Elsa dress and was a real life Ice Queen! So when daddy got home, she was thrilled to be able to go out in it and explore some more.
I can't say the same for Hazel. I think she hated just about every moment of being outside in the cold with wet stuff falling down on her. Her face was basically a RBF the whole time. Maybe next year. Maybe not. She was born in the south, so I get it. The cold just doesn't float well with her.
Snow days are some of my absolute favorite, though. I've said this before, but it's just one of those days where the world around you quiets down, the rules go out the window, and you just make your own old fashion fun.
How was everyone else's snow day? Did you get out and throw some snowballs? Build a snowman? Go sledding?
And what are some of your favorite winter accessories that you HAVE to have? Mine are definitely my pom hats, a good jacket, and gloves…which are obviously lacking today! Tell me your faves!
xxx Kristina
Oh…and I got to hang out with this stud of a hubby for a little extra today!
Related