Donut Daze with Liv and Co.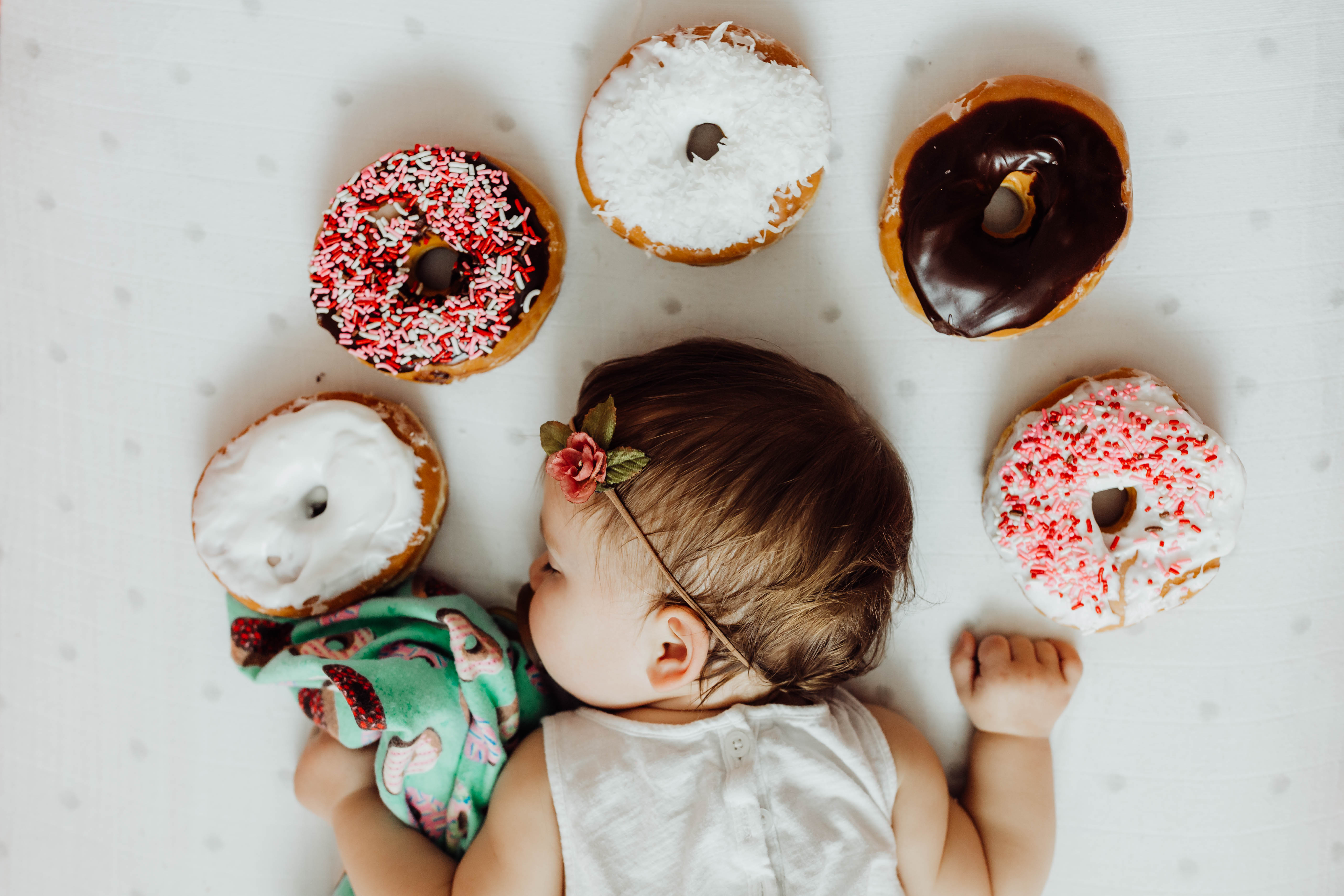 Well…It's Hazel's birthday week. Every post just might be about her this week. We'll see! I'll try not to get too overly emotional in my posts or go on a LIVE video bawling my eyes out. I thought I was going to be okay with her turning one. I mean…I've had one kid already have three birthdays, and obviously I'm still fine! The parties were fun, and it's been exciting seeing her learn new things and grasp new concepts. But now, I realize what having a baby is…not just having a baby, but having a  younger child. My baby. And yes we'll have more children, and she won't be the youngest then, but right now, she occupies that spot in my heart, and that's what my heart is feeling. My baby is getting older. I no longer have a baby after February 17th. I'll have another toddler. And it's so odd to have another toddler when I feel like I should still have a newborn on my chest.
So for now, I'll pretend she's a newborn. I'll pretend I didn't feed her sugar 6 months before I allowed Hallen to when she was a baby 😳. I'll pretend she still needs me to fall asleep on for every nap. I'll pretend she's not hitting another major milestone. For these next few days, I'm going to remember every single detail about her baby self. I'm going to write them all down and soak it in. She'll get a little more doting on and a little more of my time than usual. I'll even let her sleep with donuts! And probably have one too 🙂 Because hey…after all..it is her birthday week.
I'm sobbing as I write this post. I'm just an emotional person, so really I'm okay. But..do you see that sweet little swaddle blanket … it was also swaddled around her when she was just a few months new. So many times. It was the perfect size and perfect weight.  And now there's no swaddling with it. Just loving on, dragging around, peekaboos, and the occasional tear to wipe. So many memories are made with blankets, aren't they? It's crazy. We're wrapped in one the day we're born and we sleep under one for the rest of our lives. The blanket you love may change every year and some may stick around forever, but they all have certain memories or connotations. Big fuzzy ones are for winter around the fire. Big duvets are for cuddling under. Big gingham ones are for picnics in the summer. And little swaddle blankets become best friends.
We've loved working with Liv and Co since Hazel was tiny. It's a one woman, handmade shop. And whether I keep having babies for the next twenty years to keep buying her swaddle blankets or not, I know this one will hang around Hazel for years to come. It'll probably become a picnic blanket for barbie dolls or a baby doll's swaddle blanket.  But for now, she'll keep cuddling it and dragging around. I'm still going to pretend she's a baby…maybe until she's 2! I definitely won't accept the fact she's turning into a toddler this weekend. One seems too young to be a toddler anyways, right?!
That's why I keep telling everyone my favorite shots to take these days are napping shots, because whether it's Hallen or Hazel, they just seem like they're back to being my teeny little babes. I used to be so scared I would wake them up (which occasionally does happen), but now I just love seeing their sweet, innocent moments that I would miss if I didn't capture them.
So, maybe a little dare for all you mamas out there who have never snuck into your babe's nap…do it! Catch them snuggling their favorite blanket! Turn on the white noise really high and maybe just take a photo with your iPhone. You'll want to remember them with their booties up high in the sky, with their little legs tucked under, and their little hand grasping on to their favorite blanket. The days are SO long, but the years are way too short.
And don't miss out on our some of our favorite swaddle blankets by Liv & Co.  You can even get a little onesie and headband to match!
Related