Valentine's Day with Vilah Bloom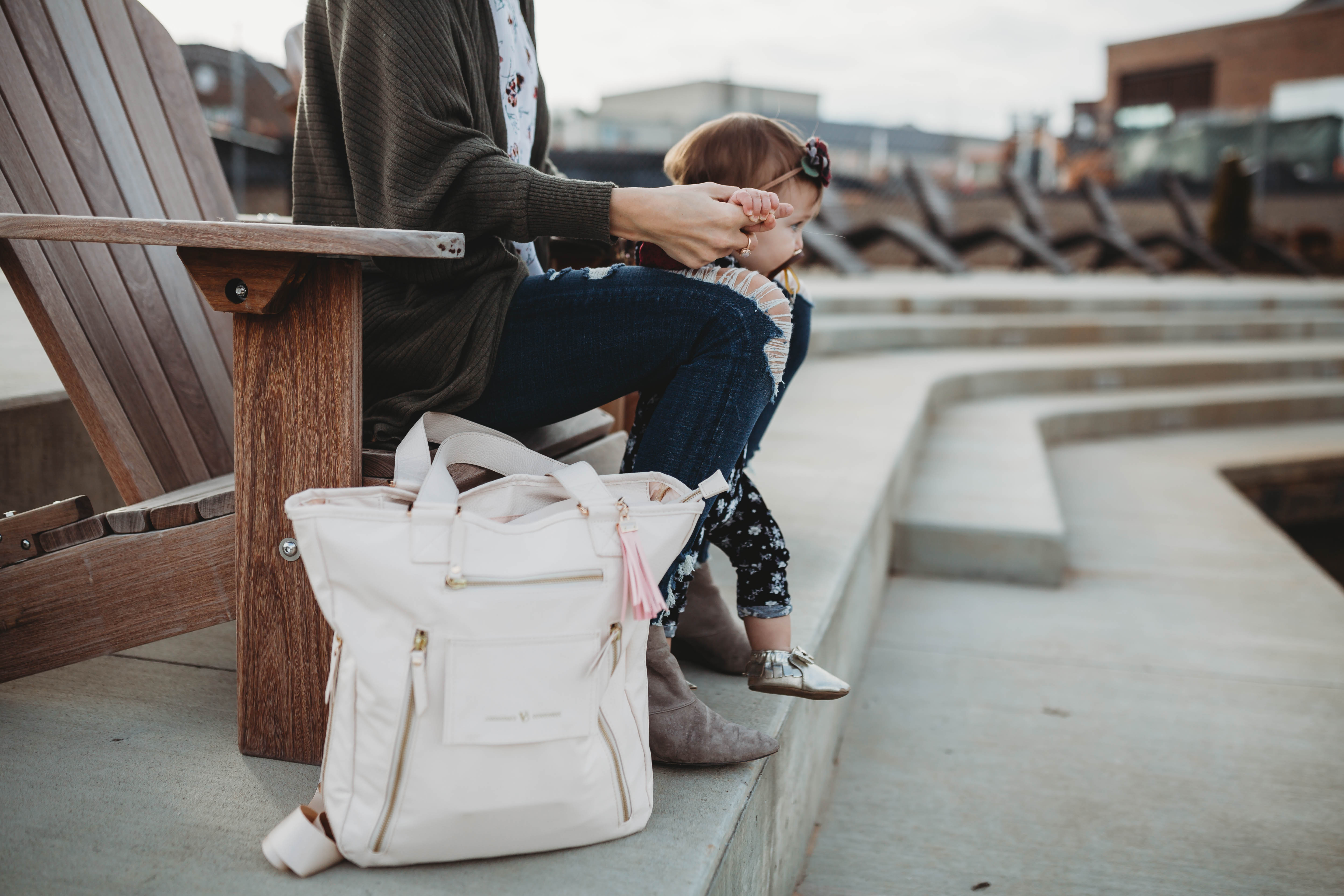 Happy Valentine's Day to all my mamas out there, all the boss babes, and mothers to be! This Valentine's post is all for you! Consider it a present to yourself. I don't know about about every one of you, but for the past few years, Valentine's Day includes our kids. And we usually say, "ohhhh don't worry about doing gifts this year…we just had an anniversary..blah blah blah." So, we don't get gifts for each other. And it's totally cool! I'd rather enjoy a quiet dinner together after the kiddos are in bed…but that doesn't mean I don't want a little gift…from myself! Since Valentine's Day isn't a big holiday in this house a little gift to myself is just as special😜, and I know exactly what I want. A little self love never hurt anyone!
And if you're anything like me, you like a functional diaper bag for your kids and yourself, which means it needs to have a certain esthetic to it as well as being kid travel friendly. It can't just be some quilted pattern from the 80s! Enter Vilah Bloom bags. I have the Cafe Crossover in whipped coconut (that just sounds yummy, doesn't it?), and it seriously is divine! All the little pockets to store things, and the little magnetic closures!
And when I talk about functional, it also means…how fast can I get to the wipes?! You all know about how I hate the messiness that comes with motherhood. Well…this bag has a little magic trick waiting for you on the front of it! Just lift to front magnetic flap and VOILA! Pull out a wipe! It's come in handy so many times already…whether it's a runny nose or some messy hands.
I know what a lot of you moms are thinking as you read this…"my kids deserve something before I buy myself a nice bag…" or " I can deal with my luggage bag I've been toting around for the past 5 years…" or "I won't be carrying around a diaper bag for much longer." I'm here to rebuttal all those thoughts going on in your head.
An organized diaper bag relieves anxiety. Seriously. And this bag has the pockets to stay organized. It also comes with a changing mat for those times you're at a restaurant that doesn't have a changing table 😑
You do deserve a nice bag. You really do! You're the mom. You're in charge. They aren't. Take back a piece of your old life when it seemed like we had it all together😂! It's kind of crazy how an article of clothing or a nice handbag can change your attitude, but it's just like buying a new pair of workout leggings that you love…you're a little more motivated to work out. Buying a nice diaper bag makes you feel a  little more put together! It makes me feel less frumpy, more in style, and less like a "minivan mom" (even though I do own a minivan and love it 😂). But you get the picture!
If you think you don't need a diaper bag much longer, think again. Even if your babies are in the late toddler ages, you'll still need a few snacks for them…maybe a water bottle and a change of clothes. Heck…you could even turn your Vilah Bloom into your gym bag or a briefcase! The options don't end at diaper bag. It's one I even take on dates when it's just Kevin and me.
Today, we had fun exploring around one of our favorite neighborhoods with the girls. We walked around quacking at the ducks, trying to make them come up to us! Hazel didn't want to leave; she loved them so much! Being together as a family was basically their present today. Maybe I'm a terrible mom. I told Hallen her Valentine was the free cookie at the grocery store this morning! But you know what…she turned right around and said, " I LOVE MY VALENTINE'S DAY, MOMMY!!" And she did. Simple joys. That's what this life is all about, right? Simple loving. Simple days. And ordinary cookies. Our kids are so blessed with things these days. I love to give them experiences. And you know what comes with experiences…messes! That's why I'll be taking my Vilah Bloom diaper bag everywhere we go!
You can shop this bag at Browsing for Baby
I'll link some more of their pieces below!
Related